Skitzo Fonik Stage Plot & Tech Specs


Call Eric with any technical questions regarding Skitzo Fonik's setup: 612-293-7867 (call/text/lv msg). 
 
For Production Info, Please Read:

We need NO MONITORS, as we are on our own IEM system. We also provide our own microphones, stands, and cables. That said, we still expect (and appreciate!) any technician(s) working with us to have those items available in case of an emergency. We use two rack-mounted digital Behringer X32 mixers to host and run our entire show. All lines connect to our rig via a rack-mounted splitter.
FOH Mixing Options
We provide a split snake to FOH for 1-to-1 channel connection (25ft max length)
Via iPad or tablet connected to our rig wirelessly
Cat cable connection from our AES50 port to your Behringer or Midas ecosystem FOH console
If mixing wirelessly or via cat connection, we can provide either a blank scene template that has all our routing and channel names ready for you, OR a starting mix scene that has everything all ready to go for a fast start-up of the show, and you may add whatever 'coloring' you want as convenient during the show. And if mixing from our rig via cat in a venue that has existing PA, our routing is setup so that you can connect to PA using stereo XLR outputs located in the back of our rack.
If you would like to download our
Routing-Only
or
Recommended Starting Mix
scene files, as well as step-by-step instructions with photos to help you get them loaded and up & running on your end, then
Click Here
to access our tech folder on Google Drive.
For individuals or companies hired either by us or a third party providing a PA for us to use, please know that we sometimes employ our own technician and crew. It is your gear, professionalism, and your expertise in the given situation that you have been hired for, and we are completely appreciative, thankful, and respectful of all that. We ask that you work with us and our crew because they understand our complicated show and what is needed every moment of it. You know your gear and the environment it's in, they know our show. Our show is non-stop as we blend songs together and feature different vocalists along the way. Nothing is worse than those first crucial vocal moments and cues getting lost in the mix - thus lost in translation between band and audience. We want the show to run smoothly and be as successful for everyone involved as possible, and we thank you in advance for the help.
Most of the time we are a 5-piece band. There are times when we go out as a 6-piece band. If you need to know which lineup we plan to use at your event and it isn't published anywhere in our event marketing, just reach out and ask.
Click on the Stage Plot images below to download a PDF file of the 5-Piece or 6-Piece band layouts.
 
5-Piece Band wih Acoustic Drums

(our standard layout)

5-Piece Band with Electronic Drums

(special occasions)

6-Piece Band with Acoustic Drums

(special occasions)
Download Drum Plot PDF
Drum Plot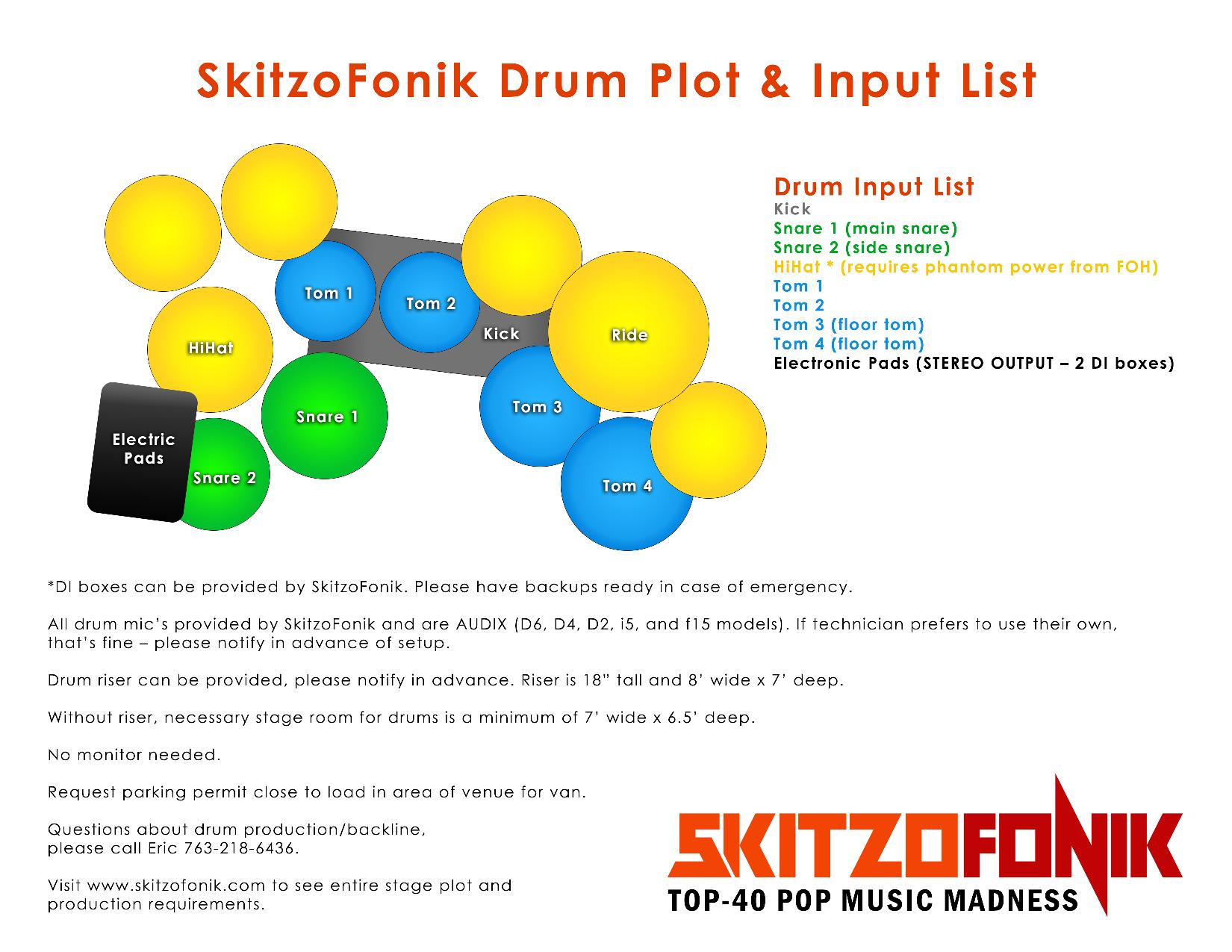 A quick note about the drum plot: The drummer has several different kits that he chooses to use depending on various factors of the show. THIS represents the standard kit setup, however it may change. Some kits are larger than listed here, and would be discussed with the event's technical consultant in advance. (It's rare the larger kits are used). Some kits are smaller 4 or 5 piece kits. This plot is provided as a reference only, and serves as a suggested minimum input availability for the drums. If you go by this plot, you will have enough inputs available to cover us 99% of the time - and again, you'd know in advance if a larger kit's use is planned.